Our Italian Story...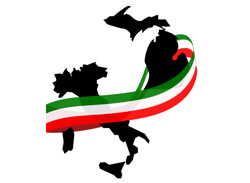 Production of 'Our Story…' began almost immediately after the idea was conceived since July is festival month, and Italians throw the biggest one of all at Freedom Hill. With executive producer Keith Famie armed with his video camera and writer Chris Kassel doing double duty as still photographer, the crew of Visionalist Entertainment hit the festival circuit with a vengeance, searching for Italian immigrants who best represent the 'spirit of the documentary'. Far from a shortage of suitable candidates, it seemed that nearly every Detroiter of Italian decent has a relative, neighbor or co-worker who exemplifies the theme: a trans-Atlantic struggle to realize the American Dream.
From Dominick Tringali's ultra-modern Bloomfield Hills architectural suite (still peppered with touches of the Byzantine Gothic he so loves) to Joseph Onni's posh Birmingham retirement digs to the leafy suburban backyard garden of Luigi Giovonne, these touching tales of hardship, prejudice and ultimate success may be translated from any number of ethnic histories, but none with the unique flavors,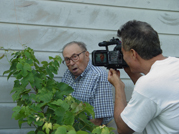 sounds and visuals of Italy.
The sprawling Freedom Hill grounds is ideal for an ethnic festival, and Detroit's Italian Community did it up proud July 21 – 23 at Festa Italiana. The Italian American Cultural Center played host to the event, one of the largest in the state, and crowds delighted in the fine summer weather to eat, drink and relax before the live Italian music on stage, which included 'Live from Las Vegas' Sal Richards, Mark Randisi and Dino Valle.

Pulchritude prevailed, especially at the Columbus Day Queen Contest. Unique aspects of the Italian community came through in vibrant Technicolor, the folk dancers in their green and costumes, the splashy sauces, old world specialties from beneath Nino Salvaggio's massive big top including perfectly fried calamari, fennel-perfumed sausages, gelato along with the cornucopia of fresh produce for which the store is justifiably renowned.
The remarkable interviews conducted during the festival itself included accordionist Lucio Daloisio who regaled us with intense stories of his childhood in Italy during the worst of wartime.
Also, Dominic Tringali, the much-ballyhooed Bloomfield Hills architect whose boyhood trips to Italy fueled his striking neo-classical style, strolled the grounds with his Sicilian-born parents Salvadore and Josephine. Turns out that Josephine hails from the same town in Sicily as one of our others interviewees, Luigi Giovannone…
Tip-top weather, cultural significance and a genuine sense of belonging abounded, making this the weekend in Sterling Heights when everyone is Italian.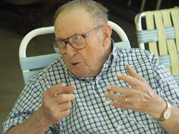 At ninety-five, Luigi Giovannone still gardens behind his modest Dearborn home, raising tomatoes, herbs, and miles of grapes which hang in bunches over the driveway. Along with his granddaughter Gianna, he maintains meticulous records of his background, having written a many-paged account in his native Sicilian dialect which Gianna has painstakingly translated, word for word, into English.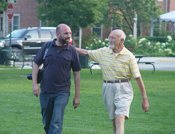 Joseph Onni still gets misty-eyed when he speaks of the beautiful fountains of Sardinia, a birthplace which he hasn't seen in nearly eighty years! Having come as a teenager, Onni lived first in Pennsylvania, where he rubbed shoulders with some powerful Italian Americans, then moved to Michigan where he began to practice the trade his father had followed: barbering. These days, it sounds like a modest profession, but so good was he at it that he was able to parley it into an extremely profitable vocation. Now retired, he is ensconced comfortably in a Birmingham.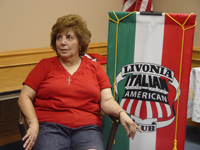 From the Italian American Club in Livonia, Maria Stante get misty-eyed reminiscing about her life's ups and downs; from a small town in Abruzzo, she came to the United States in the Forties, and returned to Italy almost immediately to marry her lover. Then back to the States for a fascinating career as a dressmaker during the heyday of Detroit's millinery trade. Beside her Italian American Club duties and co-ownership of a booming excavation company, Maria donates her 'spare time' in assisting less fortunate women and children in the Detroit area. She's not only a hardworking gem on the Detroit cultural scene, but a sweetheart as well.